Previous
Next
Attack on Koan
Conflict
Date

20xx

Place
Outcome

Combatants

Koan Forest elves

Commanders
Strength
Casualties

Flame Dragon lightly wounded

All inhabitants except Tuka Luna Marceau

Civilian casualties

unknown, presumably <100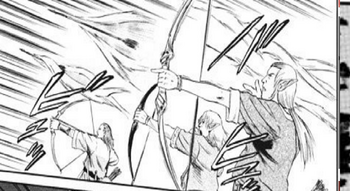 The attack on Koan marked the first contact between the JSDF and the Flame Dragon, as well as the destruction and almost total depopulation of the Elvish population in the Koan Forest area.
The Flame Dragon attacked the village of Koan, located within the forest, during the night at some point shortly before the arrival of the Third Recon Team in the area. Most of the inhabitants were caught by surprise and were killed before they could mount any form of defense. Hodor Marceau, however, managed to hide his daughter, Tuka Luna Marceau in the village well, before arming himself with his bow and arrows and attempting to fight the Flame Dragon. Hodor managed to score a hit to the dragon's left eye, the only weak point which could be damaged by arrows. However, the bowshot did little damage and Hodor was apparently killed.
The JSDF arrived shortly after the Flame Dragon left the area, rescuing Tuka from the well, who seemed to be the lone survivor of the incident.
Gallery